Certification Just Means It Costs More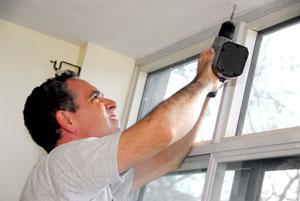 While some people prefer to hire professional contractors with a state certification or license, there's really no need for that, especially if you only need minor repair work done. Our Menlo Park handyman service is considerably cheaper than the "professionals" with absolutely no difference in quality. Why pay for the license if you don't have to? You'll get a service pro with years of practical experience in handling exactly the types of small problems you have in your home and your satisfaction is guaranteed. If you're not happy with the results we'll come back and make it right.
Our Menlo Park handymen have a reputation for high-quality and exceptional attention to detail. After all, detail is the difference between a fix that looks great and one that just gets the job done. We don't "just get the job done," we make it look like there was never a job to do in the first place. Whether it's a custom cabinet installation or a drywall repair, we'll leave it looking like it was an original part of the home.
We aren't just 9-5 guys either, we are available around the clock to handle emergencies. If your faucet springs a leak in the middle of the night or the refrigerator door falls off when you go to get a midnight snack, we're on-call to take care of it for you. Call us any time of the day or night and get a handyman sent out to your home immediately.
---
Gutter Cleaning - Interior Painting - Exterior Painting - Staining - Drywall Patching
Furniture Assembly - Mirror Hanging - Plumbing Repairs - Socket Additions - and more!